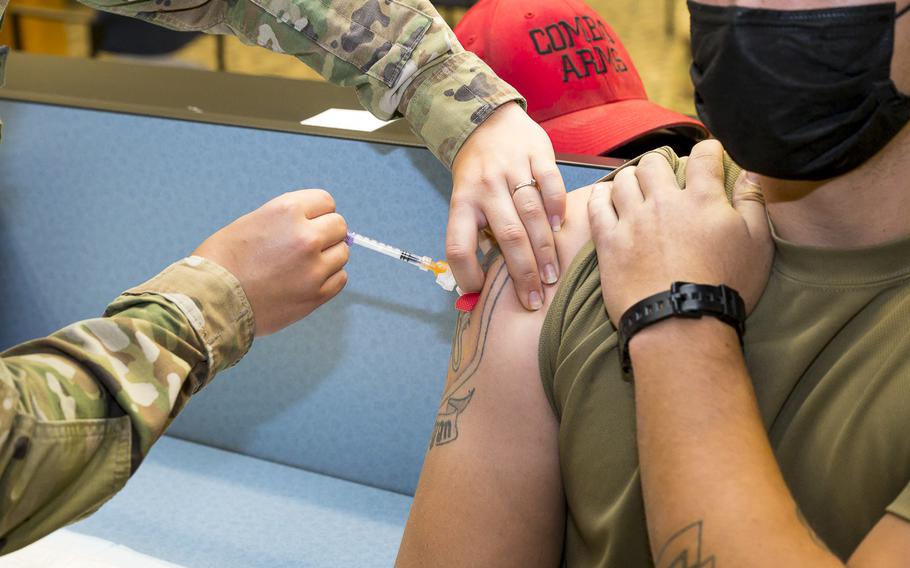 Stars and Stripes is making stories on the coronavirus pandemic available free of charge. See more stories here. Sign up for our coronavirus newsletter here. Please support our journalism with a subscription.
WASHINGTON — Republicans in Congress are pushing for the Defense Department to reinstate service members forced out of the military for refusing the recently rescinded coronavirus vaccine mandate.
Two companion bills introduced in the Senate and House this week prohibit the Pentagon from replacing the mandate with another and call for the reinstatement and restoration of rank for troops separated or demoted due to their vaccine status.
Defense Secretary Lloyd Austin required vaccination for service members in August 2021 and rescinded the mandate at the direction of Congress in early January. About 8,200 service members were discharged from the military for refusing to get the vaccine for religious or other reasons.
"The COVID-19 vaccine mandate has ruined the livelihoods of men and women who have honorably served our country," Sen. Rand Paul, R-Ky., said in a statement. "This inept bureaucratic policy should have never been imposed, and while it has since been rolled back, we still have service members who have not been rehired, promoted, or received back pay and benefits."
The bills introduced by Sen. Ted Cruz, R-Texas, in the Senate and Rep. Dan Bishop, R-N.C., in the House are co-sponsored by more than two dozen Republicans.
Bishop said the 2023 National Defense Authorization Act, the annual defense policy bill that included a provision requiring the removal of the mandate, did not go far enough. It did not prohibit the Defense Department from issuing a similar mandate in the future and did not provide meaningful remedies for service members who were kicked out, he said.
The introduced legislation will "close these glaring loopholes and bring justice to military members who were purged by Secretary Austin's egregious vaccine mandate," Bishop said in a statement.
Service members who were involuntarily separated would be credited with missed retirement pay under the bills. Those who were demoted for refusing the vaccine would have their rank restored and receive compensation for any pay or benefits lost due to the demotion.
The measures would also change any "general" discharge given to an unvaccinated service member to "honorable" and expunge the records of service members who faced adverse action for their vaccination status. "Every effort" would be made to retain service members who are not vaccinated, including promotion and leadership opportunities, according to the bills.
Democrats have opposed calls to reinstate troops who refused to follow vaccination orders, describing their actions as insubordination. Sen. Jack Reed, D-R.I., said last month that "in the United States military, a lawful order is not a suggestion, it is a command."
"For those of us who have had the privilege of commanding American military personnel, it is the essence of order and discipline in the United States military," said Reed, an Army veteran and chairman of the Senate Armed Services Committee.
Austin reiterated that stance in a memo announcing the end of the vaccine mandate on Jan. 10. The memo ended pending involuntary separations for unvaccinated service members who asked for waivers on religious, medical or administrative grounds but did not address possible reinstatement for service members who had been discharged.
A Pentagon spokeswoman said service members who believe they were wrongly separated can petition to have the characterization of their discharge corrected in their personnel records, which could open the door to reenlistment. But there is no potential for them to return at their previous level, she said.